Hiring A Beam Contractor, What You Should Know
Hiring a beam contractor isn't something that you should take lightly. These structures form the framework of your home and provide essential support to the structure. Load bearing beams ensure that your home stays is place so they need to be installed carefully and with precision. At Gordmay Construction, your Ottawa beam installation experts, we recommend that you follow these tips when you hire a beam contractor.
Skill and Experience
Beam installation requires considerable amount of skill and expertise. Contractors also need to have some knowledge of structural engineering and how beams work to support load. You should choose a contractor that has been a part of this industry for some time and has worked on several beam installations in the past. Some contractors will know the installation process like the back of their hands and will be able to complete the installation quickly.
License and Insurance
Beams are such an important structural element that you need to hire a trusted professional to install them. The best way to gauge a contractor's trustworthiness is to check their license and insurance. Legitimate companies won't hesitate to furnish their licenses and show copies of their insurance coverage. They should at least have a general liability insurance coverage of at least 2M to do beam installations in residential homes in Ottawa.
References
You can ask for references if anyone you know has installed a beam on their property recently. References aren't always the best option so follow up and do some research on your own. Most contractors will have a website and a few online reviews. You can al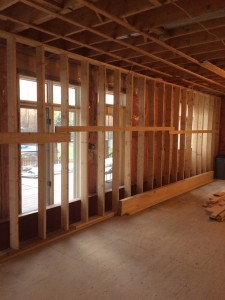 so ask the contractors to provide contact information of previous clients.
If you want more information about hiring a beam contractor or have questions about beam installation and renovations, our experienced beam installers at Gordmay Construction can help you. Don't hesitate to contact us on 613 715 4841 or fill in this contact us form.