Have you been wanting to update the siding on your house with a new trendy color?  Perhaps you've been wanting to repair that broken piece of siding but don't know where to start?  Let our team of siding installation experts in Ottawa ensure the job is done right.  Gordmay Construction also specializes in everything from gable vent replacement, soffit, fascia, eavestroughs and metal flashing.  Tired of painting the wood around your garage door every year?  For minimal cost, Gordmay can flash all pieces of wood around your garage door – meaning you'll never have to paint again!
What's Involved in the Siding Installation Process?
The siding of your house can have a huge impact on the overall look and design of your home. It enhances the exterior look of your property and will improve its overall value. Siding installation can be a massive project and take a lot of time and effort. This isn't a task you should take lightly. While installing siding may be considered an easy DIY project by some, it can be time consuming and costly, especially if you have a large home and it isn't done properly the first time. At Gordmay your Ottawa siding installation experts, we've put together a list that will help you with your siding project.
1 – The Materials
There are a variety of options available to you when it comes to siding materials. Different siding has different looks, prices, and amounts of labor involved. That's why it's important to decide what kind of material you want to use before you plan out your project. Here's a list for you to consider.
• Horizontal Lap Siding – This is the most popular and commonly found siding made from wood, vinyl, aluminum, fiber cement, etc. They also come in a variety of colors.
• Board and Batten – This is great for traditional homes. Instead of a horizontal pattern, you'll have a vertical pattern. It's made from either wood or fiber cement.
• Shingles – Shingles can also be used for siding and are available in a variety of designs and colors. They're suited for craftsman style homes.
• Wood Strip – While this option is expensive and a little troublesome to maintain, it's one of the most stunning form of siding you can install on your home.
• Fiber cement – This is great for modern, minimalistic looking homes. It creates a very flat surface with the lines of panels clearly shown.
Other materials that you can use are brick, stucco, and stone. All of them have their own advantages and disadvantages. You should consider the types of siding carefully before the installation process.
Metal Siding and Its Benefits
Siding has a major influence on the overall look and design of your property because it covers almost all of the exterior walls. If you choose the right siding, your property will look great and have great value in the market. The wrong siding however, can have a negative impact on the overall visual appeal of the property and diminish its value. These days, metal sidings are very popular and we at Gordmay Construction recommend them to customers who have the required budget and like these installations.
Types of Metal Siding
 There are different types of metal siding available in the market, and each has their advantages and disadvantages. You can consult with our experts if you want to know which siding is the best option for you. Here are the most commonly used metal sidings available in the market today:
C-360
Sinewave
Corrugated
Aluminum
Steel
We recently worked on a project with steel siding experts at Burke's Sheet Metal products and our customers loved the results.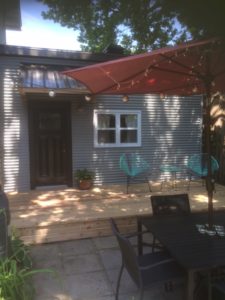 Benefits of Metal Siding
 There are many benefits of metal siding that make it worth the expense involved. Before you install, you need to ensure it's the right decision for you; here are some tips that might help you with your decision:
Metal has a lower potential for water damage and will not develop rot or mold over time like other siding materials.
This material is remarkably low maintenance so you don't need to worry about it, even during the winter. It can withstand the harsh natural elements better than other siding materials.
Steel siding in particular is resistant to fading and damage caused by sunlight and UV rays.
Metal is more fire-resistant than other siding products so it's great for commercial areas or spaces that are more prone to fire.
Metal siding is an eco-friendly product because it can be repurposed. The material is also cut very precisely and according to your requirements so there's very little product wastage.
However, material and installation costs make metal siding a more expensive option when compared to vinyl and other such materials. If you don't mind the investment, this is a great product.
2 – Finding the Right Contractor
Some siding can be installed by a DIYer, but as we've mentioned before, this is a big project and you should consider hiring a professional. There are siding experts that specialize in particular types of siding. For example, you might find a professional that specializes in wood strip siding. It's a good idea to do your research and contact several contractors before starting the project.
At Gordmay Construction, we always recommend that you call in a professional for your siding installation projects. While working on a DIY project can be satisfactory, the results might not be. You can contact us if you want help. Our number is 613 715 4841. You can also fill in this contact us form.
Look at the difference some new siding can make to the overall appearance of your home!
BEFORE                                                              AFTER

27 Providence Pl
Nepean, Ont. K2J 1N9
Ph:  613-715-4841
Email:  gordmayconstruction@sympatico.ca
Website:  https://gordmayconstruction.ca/