Looking to give your home a whole new look by replacing your existing flooring?  Let Gordmay take care of it for you.  Our installers have over 20 years experience and will ensure the job is done right with the exacting standards our customers have come to expect.
TILE VERSUS HARDWOOD
We often get the question about the various types of flooring and where they can/should be used.  A typical question is "Can I install hardwood in my kitchen, or should it be tile?".  The answer is – yes, you can install either, it's a personal choice really, but both, tile and hardwood can be used in this instance.  We always like to encourage continuity in flooring throughout each level and if you have a small space, you don't want to introduce more than two different floor surfaces on each level with tile at entrance points.
There are many different tiles to select from at any given supplier, trending today is the 12″ x 24″ tile which tends to be an elegant, modern choice.  Under all of our tile installations, we highly recommend the use of a Schluter®-DITRA system which gives your tile protection from cracking and provides a water proof layer underneath which can be highly beneficial – especially in that second level bathroom.
SOLID HARDWOOD VERSUS ENGINEERED HARDWOOD
Both solid hardwood and engineered hardwood are real wood, with various appearance and color selections.  The main differentiating factor is that solid hardwood is milled from a single piece of lumber, whereas engineered hardwood is made up of many plies of wood with one solid wood top layer.  Engineered hardwood tends to be more popular these days due to it's durability and the fact that it won't expand and contract with the seasons like solid hardwood will.
LAMINATE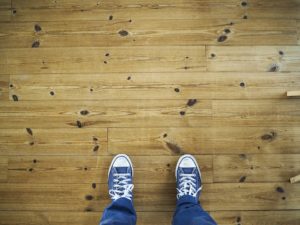 Laminates have become very popular over the last few years and this is because this material is very versatile. Laminate boards are very resilient and can withstand high amounts of foot traffic. Laminate is also available in a variety of finishes and textures, which makes it ideal for residential as well as commercial applications.
Laminate floors are durable and strong because several layers of material are fused together to form one board. The core of the floor consists of a high-density fiberboard. A stabilizing bottom layer is added under the core fiberboard to ensure the laminate floor can bear the pressure and weight. The top of the board is covered with a decorative layer that has the desired patterns and textures.
Some of our clients here at Gordmay Construction are interested in this type of flooring material. Unfortunately, they sometimes hesitate because laminate is considered a low-quality material. This is no longer the case. Modern manufacturing techniques ensure that laminate floors are worth every penny you spend on them. Here's a guide to help you make the right purchase decision.
Why is Laminate Popular?
 Today, people aren't afraid to look at alternate flooring options. They don't want to stick with the traditional hardwood floors and want to experiment with different flooring materials. Of course, new floor installations can be expensive so people still want to choose the right long lasting material. Here are some aspects that make laminate flooring a very attractive option.
Affordability – Laminate floors are very affordable. In fact, they can easily be 20% to 30% cheaper than hardwood floors and this is just the upfront cost. The floors also have a very low cost of ownership because they don't require annual maintenance.
Versatility – As we mentioned before, this floor is very versatile. You don't have to stick to one design or colour. Laminate floors can replicate the design of different natural woods, natural stone, and even ceramic tiles. This makes laminate a very attractive option.
Daily Maintenance – Laminate floors are very easy to clean. You don't need to worry about water or drink spills, scratches, etching, or other related problems. If the floor is dirty, all you need to do is sweep it or mop it and it will be clean once again.
Installation – Laminate floor panels click into place and support each other. This makes the installation process very easy and quick. Because the installation requires less time and effort, the labor cost is low. Again, this reduces your overall expense. The click-style system also allows you to remove the flooring and repair it easily. For example, if one panel is damaged, you can easily remove that particular panel and replace it. The process wouldn't cause any harm to the surrounding panels.
Resilient – Laminate floors can be installed outdoors because they can withstand the elements well. The floor design and color won't fade under the UV rays of the sun. This is one of the reasons why this is a very popular flooring choice in sunrooms, and covered patios.
Types of Laminate Floors
High Pressure Laminate – This is one of the most durable planks available in the market and involves a two-step manufacturing process. In the first step, the boards are glued to each other before other materials are added and pressure fused together.
Direct Pressure Laminate – This is a one-step manufacturing process before all boards are assembled and pressure fused together at the same time.
Glueless-Click – Most of the laminate floors available in the market today have glueless click. The individual planks snap into place with a locking system.
Glued Laminate – These laminate floors are rare and more difficult to install. You need to apply glue to the edges of each plank during the installation process.
12mm in Thickness
 Laminate floor planks should be at least 12mm think. Thinner planks might be more affordable, but they can sometimes prove to be a waste of money. Here are some reasons why you should install thicker planks:
Easy Installation – Thicker planks are easy to install and are less likely to break or be damaged during the installation process.
Sound – People often complain that laminate floors are noisy but that effect is dampened if you install thick planks. The sound won't travel as well in thicker planks.
Pressure and Impact Resistance – While thicker planks are still quite flexible, they're more impact and pressure-resistant than thin planks. Again, this means they are less likely to break under pressure.
As you can see, laminate floors are an excellent choice for you. If you want more information or advice, click on this Laminate FAQ page in our blogs section or contact us by filling in this contact us form.

27 Providence Pl
Nepean, Ont. K2J 1N9
Ph:  613-715-4841
Email:  gordmayconstruction@sympatico.ca
Website:  https://gordmayconstruction.ca/