Gordmay, B
athroom Contractors Ottawa

Gordmay, your bathroom contractors Ottawa experts.  
Serving the Ottawa and Barrhaven area for over 20 years.  There are simple cost effective modifications that can be made when considering bathroom renovations that will make feel like you're living in a whole new space.  
If you'd like to remodel your bathroom but the budget isn't quite there, you may want to consider changing up your vanity counter top, sink and faucet.  Perhaps replacing your interior trim and giving the bathroom a fresh new look with paint.  Try a magic eraser sponge on all of those hard to clean areas like sinks and tubs.  Look at replacing your vanity mirror and electrical light fixture to a more sleek modern or contemporary design.  As one of Bathroom Contractors Ottawa we can make many cost effective suggestions to help you to achieve your goals without going over budget.
If you have decided now is the time to remodel, we always suggest our clients visit various suppliers to get an idea on choices of vanities and counter tops, floor and or wall tiles and plumbing fixtures.  This will simplify the estimate process if we know what materials you may be interested in. We can provide you with some recommended supplier selections such as Mondeau  which will give you information on all things plumbing fixtures.  Visit Cefaloni Counter Tops at 211 Colonnade Rd. and see the 180FX line which is a laminate counter top, but is actually digitally enhanced true-to-scale granite patterns….so you get a laminate top that has durability and style, at only a fraction of the cost of stone.  If you are looking for a bathroom contractors Ottawa  – look no further, call Gordmay today!
Many of our customers are interested in learning more about what goes into a bathroom renovations, this helpful diagram will explain all of the key words you might hear us discussing.  Remember, at any time before, during or after your renovation you have questions, please don't hesitate to ask – we love what we do, and it shows.
Our Bathroom Contractors Ottawa Renovations Specialist services include but are not limited to:
Complete Bathroom Design and Remodeling – If your bathroom is starting to look like it's worn and old, you should consider remodeling it. We offer custom bathroom design and remodeling services that will make your dream bathroom a reality.
Heated Floor Tile – No one wants to step on a cold floor after a warm bath or shower, especially during the winter months. Heated bathroom floor tiles will ensure that you can walk comfortably on your bathroom floor.
Replacement of Sub-floor and Floor Tiles – Bathroom floors are built to be resilient and last for several years. If damage occurs, it's usually on the floor tiles. We have experts that can handle both floor tile and sub floor replacement easily.
Sub-floor Repair from Water Damage – Bathrooms are usually designed to withstand water damage. However, there's a chance that water problems may lead to a damaged sub floor. If your bathroom smells like mold, shows gaps between the caulking, tile, and tub, or has a spongy feel to the floor, there might be water damage present. You will need to address this problem immediately.
Safety Tubs – If you have elderly or handicap family members, installing a safety tub is a great idea. Getting in and out of a safety tub is very easy and convenient and we can install these tubs into your bathroom quickly and easily.
Grab Bar Installations – Grab bars are absolutely essential for homes with the handicapped or elderly. They will offer essential support to people who need it most.  See our services page for grab bar installations.
Handicapped Bathroom Modifications – There are some essential modifications that a regular bathroom will need to be safe for handicap people. We can provide many of these custom bathroom modifications for you, just ask us for help.
Custom Shower Installations – Not all bathrooms are built the same. The dimensions and sizes differ among all homes. You may need a custom built shower and we can help you with this so that it's specifically designed to fit your bathroom.
Counter Top Replacement – One of the best ways to enhance the look of your bathroom is to replace your countertop. We can install many different kinds of countertops quickly and efficiently to give your bathroom a new and modern look.
We Also Offer the Following Services:
• New plumbing fixtures
• Steam room installation
• Mold removal
• Exhaust fan replacement
Kerdi Schluter shower systems
Tiled Niche Shelves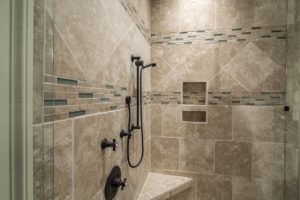 Shower stalls require shelves, especially if they're small and there's not enough room for free movement. Protruding shelves in small showers can easily cause accidents and take up space. This is just one of the reasons why niche shelves are so popular. They are embedded in the walls and allow you to have a bigger shower space. They can also be as big or small as you want them to be.  We can install many different kinds of niche shelves, including pre-fabricated steel shelves.  See our latest blog on Steel Niche Shelves as an option.

Tiled Niche Shelves
Design – Tiled niche shelves can blend in seamlessly with the overall design and look of your shower and bathroom. You can choose a tile that matches the ones in your shower stall or pick out a color or design that complements it. If you plan the design well, the niche shelves will appear as a natural part of your shower.
Resilient – Tile shelves are very resilient and will withstand the wet conditions in your bathroom easily. Unlike wood or laminates, tile won't warp or bubble because of the moisture in the air and that makes it an ideal material for your shower.
Versatility – You can choose any color, texture, and design you like because there are a variety of options. Some designers create a mosaic backdrop for niche shelves. The colorful pattern can stand out and grab attention and will add an interesting design element to an otherwise plan-looking shower.
Cleaning and Maintenance – While you might need to clean the grout lines between the tiles regularly, this surface is very easy to maintain. All you need to do is simply wipe the tiles and it's clean. Tiles don't absorb water so you won't have to worry about any marks or stains. You can keep any product on the shelf without hesitation.
Custom Showers – Should You Keep the Tub?
Modern design concepts are just as practical as they are elegant. Most homeowners would rather remove aspects they don't need from their bathrooms, and utilize the space more productively. In recent years, customers have started to replace their bathtubs with showers, but is that the right decision for you? The experts at Gordmay Construction, have put together some information that will help you make that choice.
Bathtubs and Showers – Pros and Cons
 Bathtubs have been around for centuries now and people find it hard to let them go. Real estate agents say that homes without bathtubs don't sell, and their absence can decrease the value. Showers, on the other hand, are relatively new and have grown in popularity over the years. Here are some advantages and disadvantages of both installations:
It's easier to bathe children when you have a bathtub, especially toddlers who tend to enjoy bubble baths. Without a tub, you might have to use a handheld shower and that can be cumbersome
If you eliminate a bathtub, you may be limiting potential buyers who have small children from purchasing your home
Getting into bathtubs isn't easy for people with limited mobility. If you have elderly or disabled people in your home, you might want to install a walk-in shower for them to reduce the risk of injury
Showers are more practical and are used more often than tubs. They also take up less space and don't disrupt the flow of the bathroom
Bathtubs might offer a relaxing soak and help sooth your muscles after a hard day's work, but people rarely have time to do that these days. More often than not, they just hop into the shower and don't bother with filling and soaking in tub
When you consider the points listed above, it's apparent that the choice depends on what your priorities with your bathroom are. Do you have children or grandchildren? Do you intend to sell your home in 5 to 10 years' time?  If that's the case, you should install a bathtub. But if you don't intend to sell your home for at least 10 years and want an easily accessible and functional bathroom, you should install a shower. You can discuss this in detail with our experts to make sure you make the right decision.
If you want more information or have questions on niche shelves, our experienced installers at Gordmay Construction can help you. Fill in this contact us form and we will be in touch within 24 hours of receiving your email.

27 Providence Pl
Nepean, Ont. K2J 1N9
Ph:  613-715-4841
Email:  gordmayconstruction@sympatico.ca
Website:  https://gordmayconstruction.ca/