Your Ottawa Crown Moulding and Trim Specialists!
With so many variations of Crown Moulding and trim out there to chose from, your selection should be a balance between your current decor and personal preference.  To view some different styles and sizes check out The House of Fine Carpentry website which provides a vast selection.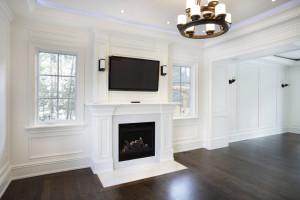 How to Install Crown Molding, Baseboards, and Trim
Installing baseboard or crown molding is a favorite project among beginner DIYers. The installation process is pretty straightforward. The only things you need to concern yourself with are the corners. You need to cut them properly to ensure that the different pieces of baseboard line up perfectly. At Gordmay, we've put together a brief guide for you to follow.
Select your Material
Choosing the right material would have an impact on the look of your home and your budget. There are, of course, different kinds of materials available. These include wood, MDF fiberboard and even plastics. Most contractors would recommend MDF simply because it's easier to work with and can be painted over to get the right finish. Of course, natural wood boards or molding will add a different kind of elegance to your home. However, they're slightly more expensive.
Remove Old Molding and Baseboards
You need to measure your room before you purchase your new baseboards or crown molding to estimate how many feet of materials you will need. However, for this, you may need to remove any existing boards to get accurate measurements. You can use a putty knife to gently pry away the boards. This will ensure that there's no damage to the wall, floor, or ceiling.
Measuring
After you've removed the baseboards, gently scrape away any glue or caulk from the previous installation to ensure that the wall is clean. You should then keep the tape measure perfectly straight and measure along the walls. You need to allow a little extra room for the outside corners. When you purchase the boards and moldings, make sure that you buy a little extra. Some people purchase about 10% to 15% extra. You can just buy a couple of extra standard lengths of baseboard in case there is any waste.  For tips on how to measure see our blog.
Cutting Corners
Measuring and cutting the corners is the most complicated part of the installation process. For outside corners with 90° angles, you will need to cut 45° from the other outside corner. For inside corners, you need to decide whether you want to miter or cope. For coping, you need to cut one baseboard at a 45° angle and saw away the angled profile and leave the paint line intact. Your boards will fit in together like puzzle pieces. Mitering is similar to cutting outside corners, only you need to cut from the inside out.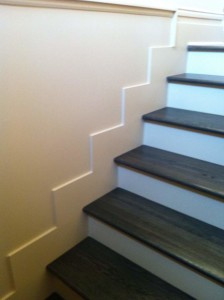 There's nothing that freshens up a room like new interior trim.  Over the years your baseboard, door and window casing gets scratched, dinged and dirty.  The caulking around the trim dries out and starts to pull apart, leaving a less than desirable look to your room.  Let Gordmay provide you with an estimate to replace your trim with a more modern square look with little to no detail, providing clean crisp lines.  Our number is 613 715 4841. You can also fill in this contact us form.

27 Providence Pl
Nepean, Ont. K2J 1N9
Ph:  613-715-4841
Email:  gordmayconstruction@sympatico.ca
Website:  https://gordmayconstruction.ca/